2274 State Hwy 166, Cooperstown, NY 13326
607-547-8212
Open Monday through Saturday 9 am to 5 pm
July through October
CLOSED ON SUNDAYS

Special Offerings
The 2017 CSA membership contract is now available.. Middlefield Orchard offers a Winter CSA for both fresh and processed food, and for the regular season a fruit CSA, a vegetable CSA, and combination of fruit & vegetable CSA for the 2017 season. We look forward to serve you during the upcoming season.

What's Happening
EVENTS HAPPENING
The 2017 Winter CSA offering is now available. It will commence Saturday, January 7, 2017. Check it out on our CSA page.
The Orchard will re-open on Saturday, July 1, 2017 through Saturday, November 4, 2017, for u-pick.. Our weekly schedule is 9 am to 5 pm Monday through Saturday.
Our college migrant workers for the day.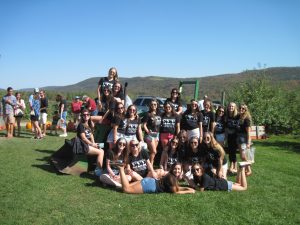 Strawberry jam a popular favorite.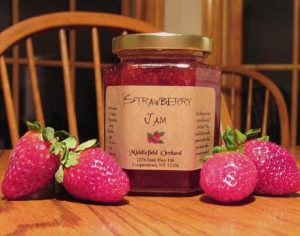 FRESH FRUIT & FRESH VEGETABLES at any of our markets in Cooperstown (Sat 9 am to 2 pm) year round, or Oneonta (Sat 9 am to 1 pm) year round, or Delhi (Weds 9 am to 2 pm) June through early November.
CSA Customer comment:
"The Middlefield Orchard CSA is a way to provide healthy food for your family while supporting our local farmers and region. All the produce and fruits are fresh, sweet and flavorful. Favorites of ours are the blueberries, rasberries and strawberries. Our family enjoys going out to the farm and hand-picking the raspberries, apples and pumpkins.  Nate and I have done the math, and for the amount of produce and goods we receive it would be more than twice that at the store- and likely grown outside of our country and months old. You can bet we will be back for another summer and winter CSA again this year.  Nate and Suzanne Furman

You may sign-up for our seasonal CSA program by printing and filling out the contract form located on the bottom of the CSA page or pick up a contract at one of our markets. Click on the CSA button on the left hand navigational bar and scroll down to the bottom of the page.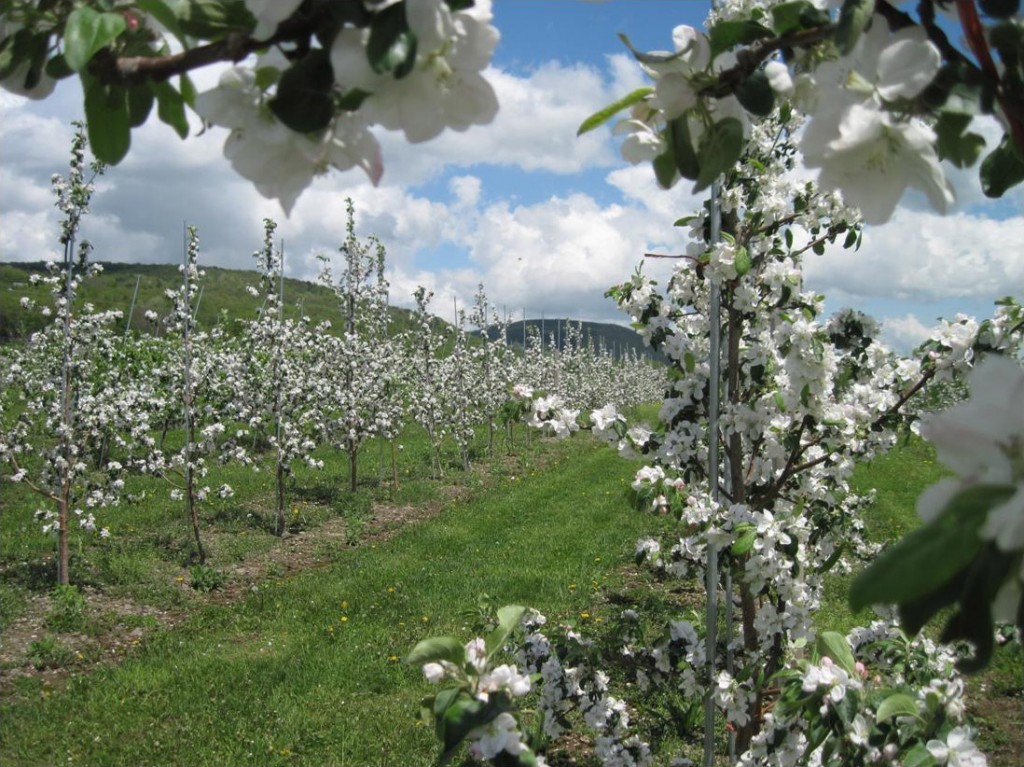 Orchard in bloom.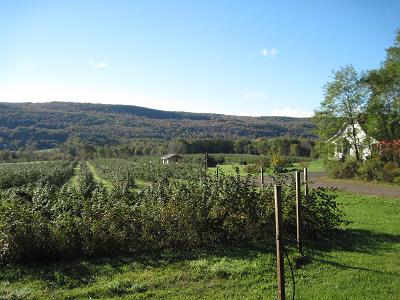 Orchard and raspberry patch view.
The orchard will re-open Saturday, July 1, 2017 through Saturday, November 4, 2017.